General Information – The Marae
The marae (meeting place) is a Māori community facility which consists of a carved meeting
house (wharenui), a dining hall (whare kai) and cooking area as
well as the marae atea (sacred space in front of the meeting house).
The marae is a symbol of tribal identity. It is a meeting place
where people can discuss and debate various issues, and is considered
by Māori as a turangawaewae (a standing place, a place of belonging).
It is the area of greatest mana (prestige, power), the place of
greatest spirituality, the place in which Māori customs are
given ultimate expression.
On the marae, official functions take place ;
celebrations, weddings, christenings, tribal reunion, funerals.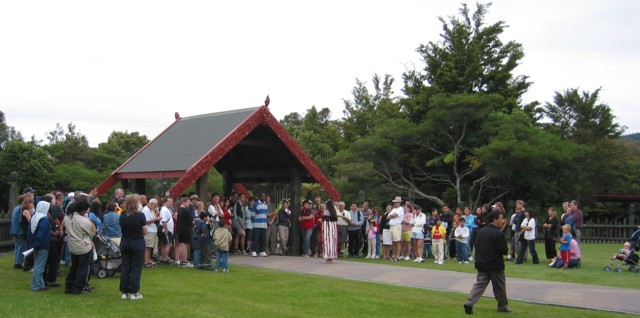 Whakarewarewa Marae
, Rotorua New Zealand.
Visitors arriving at Wakarewarewa Rotorua.
Karanga
The karanga is an exchange of calls that takes place during the time a visiting group moves onto the marae, or into the formal meeting area.
The karanga usually indicates the start of the pōwhiri (formal welcome ceremony). Carried out exclusively by women and in the Māori language, karanga is initiated by the hosts (tangata whenua).
The karanga generally begins with the initiating caller (kaikaranga) from the tangata whenua, and response caller (kaiwhakatu) from the manuhiri.
Like the whaikōrero (formal speech of welcome), karanga follow a format in keeping with correct protocol.
The call also clears a spiritual pathway for the ancestors of both visitor and host to meet and partake in the ceremonial uniqueness of the pōwhiri.
It is normal for both kaikaranga (women who carry out the karanga) to address and greet each other and the people they are representing.
To address and pay tribute to the dead of each other's acquaintance (especially those who have most recently died), and to refer to
the reason that has brought the two groups together.
There is no restriction on how long the exchange lasts nor on the number of women who participate, but not all women are skilled in performing karanga, and on any one occasion only a few women normally karanga. The exchange generally lasts until the visitors have stopped momentarily in respect directly in front of the meeting house (marae atea). After standing in silence for a short time, a final karanga is sometimes offered by a host kuia (female elder) to indicate that the visitors should take their seats.