[vc_row][vc_column][vc_column_text]
The Culture of New Zealand is a fusion of Maori and that of the descendants of the early
British colonists and later settlers, many of whom were of working class origin.
Introduction
Since the 1970s New Zealand has seen an outpouring of creativity from writers, film makers, craftspeople, fashion designers, musicians and others. With vigour and originality, the country's artistic community is breaking new ground both at home and on the world stage. So, while there's no denying that sports, like rugby and sailing, are an intrinsic part of New Zealand culture, there's a parallel force of innovative writers, artists, film-makers and musicians. The relative youth and isolation of the nation in world terms has led to artists developing a Pacific style seen nowhere else in the world. And in recent years, as the country has matured into self-confidence, art and culture have risen to new prominence.
Music

New Zealand music is a significant component of the culture of New Zealand. As the largest nation in Polynesia, New Zealand's music is influenced by the indigenous Māori and immigrants from the Pacific region. The origins of New Zealand's musical culture lie in its British colonial history, with contributions from Europe and America. Local artists have mixed these styles with local influences to create music that is uniquely New Zealand in style.

Bic Runga

The Datsuns.

Blues, jazz and country music arrived from America in the 1920s and 1930s, while rock and roll made its entrance in 1955. New Zealand musicians and songwriters, including artists such as jazz pianist Mike Nock and popular singer Bic Runga, and groups such as Split Enz, The Muttonbirds and The Datsuns, have contributed to these global movements. The national importance of popular music was recognised by the establishment in 2000 of the government-funded New Zealand Music Industry Commission, which promotes New Zealand music. Every year jazz and blues musicians gather from all over New Zealand and overseas for the annual Bay of Islands Jazz and Blues Festival. The many venues in Paihia, Russell and Haruru Falls host over 150 hours of quality jazz and blues during the three-day event. There are more than 50 acts featured. Street performances in the towns of Kawakawa, Paihia and Russell each morning add to the flavour of the festival.

King Kapisi.

Adeaze.
Māori singers and songwriters such as Howard Morrison, Prince Tui Teka, Dalvanius Prime, Moana Maniapoto and Hinewehi Mohi have developed a distinctive Māori-influenced style, and popular music has helped in the revival of the Māori language.
The Māori Music Industry Coalition was launched to support this goal. Pacific rhythms and melodies have influenced new sounds such as poly-funk and Pacific blues, heard in the music of Ardijah, Che Fu, and Nesian Mystik. In 2004 the hip hop artist Scribe, of Samoan heritage, dominated the New Zealand Music Awards. New Zealand has produced many internationally acclaimed singers, notably Donald McIntyre, Malvina Major, Kiri Te Kanawa and more recently Jonathan Lemalu. Many started on the path to success by winning the Mobil Song Quest (now the Lexus Song Quest). In New Zealand professional opera productions are staged by the NBR New Zealand Opera and regional opera companies. The New Zealand Choral Federation, established in 1985, links community, youth and church choirs around New Zealand.

Dame Kiri Te Kanawa.

Howard Morrison.

Dave Dobbyn.

New Zealand has a diverse contemporary and alternative music scene. While rapper OMC (Pauly Fuemana) and Crowded House's Neil Finn are probably our best known musicians, other performers including Bic Runga, HLAH, Stellar, Shihad, Weta, and King Kapisi are currently making waves. New Zealand music is widely played on popular radio and you can catch live performances at venues ranging from major concert halls to intimate clubs and country pubs all over the country. In 1965, the Loxene Golden Disc Award debuted as New Zealand's first music awards. Forty years later, the 2005 Vodafone New Zealand Music Awards celebrate 12 months in a local music industry that has never been in better voice.

Tim and Neil Finn.
New Zealand has three professional symphony orchestras, including the highly acclaimed NZSO (New Zealand Symphony Orchestra). There are also a large number of excellent choirs, including the National Youth Choir, which recently won a number of prestigious international events. Recent co-productions between European-style groups, such as the Royal New Zealand Ballet and the NZSO, and Maori music and dance groups, are examples of a bicultural 'fusion' currently occurring.
Film
History
The first public screening of a motion picture was on October 13, 1896 at the Opera House, Auckland and was part of a show presented by Charles Godfrey's Vaudeville Company. The first filmmaker in New Zealand was Alfred Whitehouse, who made ten films between 1898 and mid-1900. The oldest surviving New Zealand film is Whitehouse's The Departure of the Second Contingent for the Boer War (1900). The first feature film made in New Zealand was Hinemoa. It premiered on August 1, 1914 at the Lyric Theatre, Auckland. Produced by George Tarr, and based on the story of Hinemoa and Tutanekai. The film was shot in eight days in Rotorua with a budget of £50. Despite the onset of World War One, Hinemoa was very popular and shown all over New Zealand. Sadly no copies are known to exist today.
Boosted by the arrival of talking pictures in the 1920s, a New Zealand film industry developed slowly. The National Film Unit, founded in 1941, nurtured documentary film making, but few feature films were made before the 1970s. The government-funded New Zealand Film Commission, established in 1978, financially assisted film makers. Movie production boomed from the 1980s. If you're a movie-goer, you've probably seen New Zealand on the big screen. Film-makers are catching on to New Zealand's charm, and the wealth of talent and innovation available in this resourceful country make its film industry, though small, one to rival Hollywood's. The Lord of the Rings was filmed in New Zealand and directed by New Zealander Peter Jackson. Before Jackson's success, which includes 17 Oscars for the Rings trilogy, New Zealand was little more than a footnote on the international film-making scene. The impact of the films he has made has meant a huge amount of publicity for New Zealand films and for the country itself. The infrastructure he has developed here has also meant a transformation in the scale of films which can be made here. Computers helped create some of the effects, but the scenery was all natural – see for yourself, a number of operators offer tours to sites featuring in the films. Elijah Wood, who played Frodo, says: 'New Zealand is Middle-Earth. It has every geological formation and geographical landscape you can imagine – and some you couldn't.'

Peter Jackson.

Sam Neil.

Keisha Castle-Hughes (Whale Rider).

Youngest person ever nominated for an Oscar in the Actress in a leading role category.

Anna Paquin (Aged eleven when acted in Jane Campion's The Piano (1993). Won Oscar for Best Supporting Actress.)

New Zealand scenery has doubled for other places, including Himalaya for Vertical Limit and Japan for The Last Samurai.
It also became Narnia in The Chronicles of Narnia: The Lion, the Witch and the Wardrobe, directed by New Zealander Andrew Adamson.
New Zealanders are also good at telling their own stories on film. Whale Rider – a haunting tale based on a story by Witi Ihimaera – recently shot to international fame after showing at the Sundance and Toronto Film Festivals. On January 27, 2004, Keisha Castle-Hughes became the youngest person ever nominated for an Oscar in the 'actress in a leading role' category.
Recent Kiwi films; The World's Fastest Indian (starring Sir Anthony Hopkins), Sione's Wedding, No. 2, In My Father's Den, River Queen, Peter Jackson's remake of King Kong and The Chronicles of Narnia: The Lion, the Witch and the Wardrobe. A competitive exchange rate, excellent scenery, and a highly skilled workforce make New Zealand the perfect place to shoot a movie. New Zealand has produced many top directors, including Roger Donaldson ('Cocktail', 'Species'), Jane Campion ('The Piano'),Lee Tamahori ('Once Were Warriors', 'The Edge'), and Peter Jackson

Lee Tamahori.

Temuera Morrison.
Novelists
Katherine Mansfield (1888-1923) is the giant of early New Zealand literature. Regarded as being one of the finest short-story writers in English, she is the first in a long line of excellent New Zealand short-story writers. Stories such as 'The Doll's House','At the Bay', and 'The Garden Party' are superb examples of Mansfield's depiction of turn-of-the-century colonial New Zealand.
Katherine Mansfield.

Patricia Grace.

The twentieth century saw the emergence of many fine New Zealand novelists including John Mulgan ('Man Alone'),Robin Hyde ('The Godwits Fly'), Maurice Shadbolt ('Strangers and Journeys'), and Janet Frame ('Owls do Cry').
Born in 1924, Janet Frame is one of New Zealand's most highly regarded novelists. Frame's books include devastating accounts of the treatment of mental patients in New Zealand during the 1950s and 60s. Her best-selling three-part autobiography was made into a top-rating television series and film — 'An Angel at my Table'.
New Zealand's best-known Māori writers include Patricia Grace, Alan Duff, and Witi Ihimaera. Duff's bleak 'Once Were Warriors', depicting a violent, dysfunctional Māori family, was made into an international hit movie by Māori filmmaker Lee Tamahori.
An exciting younger generation of New Zealand novelists including new-ager Elizabeth Knox ('The Vintner's Luck'), Gen X-er Emily Perkins ('Not Her Real Name'), Bulgarian-born Kapka Kassabova ('Reconnaissance'), and Samoan-born Sia Figiel ('Where we once belonged') show that contemporary New Zealand literature has a wide range of cultural and stylistic influences.

Janet Frame.

Alan Duff.

Elizabeth Knox.
Art
Due to the small population base and a lack of arts funding sources, many artists have struggled to sustain themselves economically, even though they may achieve popular success. For this reason many of New Zealand's best artists go overseas to further their careers, especially to Australia, but also to Europe or America.
Arts funding is provided through a specific arts based government department, Creative New Zealand.
In the twentieth century, as New Zealand grew in national confidence, more original artists appeared. Realism and honesty about life in New Zealand became dominant themes as in paintings by Rita Angus, Colin McCahon and Toss Woolaston. In recent years, themes and styles have become more diverse, reflecting an increasingly cosmopolitan society, and many artists now show distinct Maori and Pacific Island influences. Whether you're interested in Māori carving or abstract painting, you'll find lots of art in New Zealand. Traditional Māori arts such as carving and weaving are alive and well. You'll find excellent examples in museums, shops, and on marae (meeting grounds) throughout the country.
New Zealand has a fine tradition of painting:
C.F. Goldie (1870—1947) and Gottfried Lindauer (1839—1926) were two early artists who painted portraits of Māori subjects.
Frances Hodgkins (1869—1947) is one of New Zealand's most acclaimed and influential painters. She was associated with a number of avant-garde British movements including Neo Romanticism.
Rita Angus (1908—1970) is a much-loved New Zealand artist who painted beautiful New Zealand landscapes and a large number of self-portraits.
Colin McCahon (1919—1987) painted a large number of landscapes and used text, often of a religious nature, in many of his works. 'His Practical Religion 1969', featuring the words 'I AM', has become an iconic New Zealand artwork.
New Zealand has a vibrant contemporary art scene and most New Zealand towns have interesting art galleries and shops.
Māori and Pacific, as well as feminist influences, are strong in contemporary New Zealand art. Artists such as Ralph Hotere, John Pule, Michael Parekowhai and Robyn Kahukiwa, not only create striking and dramatic images, but also provoke reactions from their audience.

Charles Goldie. (1870-1947)

Frances Hodgkins. (1869-1947)

Rita Angus. (1908- 1970)

Gottfried Lindauer. (1839-1926)

Ralph Hotere.

Robyn Kahukiwa.
W.O.W (World of Wearable Art)
A world where art and the human form combine, where dance, music and lighting tell a story of the body as a canvas; where the lines of fashion and art blur and merge as one. From humble beginnings in 1987 as a promotion for a rural art gallery in Nelson, New Zealand, the Montana W.O.W Awards have developed into an icon of New Zealand creativity. The two hour show held annually in September in Wellington, New Zealand to an audience of 30,000 per season. This original concept promotes New Zealand as an extraordinary, exuberant and creative place and showcases this creativity to the world. W.O.W. 'takes art off the wall and onto the moving body' and enables works of art to perform onstage in the ultimate arts competition. Designers of Wearable Art garments are challenged to create something completely original, a garment that has impact on the stage, is impressive up close, is constructed to withstand the movement of individual choreography and has that overall 'WOW Factor'.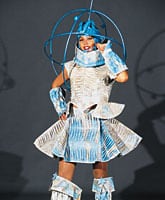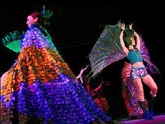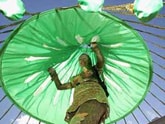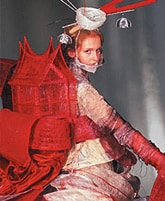 Fashion
Once the words 'New Zealand' and 'fashion' were rarely seen in the same sentence. Half a world away from the world's fashion capitals, New Zealanders were always a season behind the latest trends, and the rigours of climate and occupation often made comfort more important than style. A casual lifestyle and the popularity of outdoor pursuits influenced the way New Zealanders dressed; these factors are reflected in a small range of distinctive garments still manufactured and worn: the Swanndri bush shirt, and jandals, for example. They also spawned fashion crimes such as 'walk shorts' worn with long 'walk socks': popular business garb for men from the late 1950s until the 1980s.
Trelise Cooper.

Karen Walker.

Followers of fashion were always eager to adopt trends from overseas. From 1964 until 1995 the annual Benson and Hedges fashion shows encouraged local design talent, but the fashion industry still looked overseas for inspiration. This gradually changed, and at London Fashion Week in 1999, four New Zealand labels – World, Nom D, Zambesi and Karen Walker – were hailed as style leaders, with a 'dark and intellectual' look.
The New Zealand fashion industry has grown exponentially in recent years. As established designers are acclaimed by trend-watchers based in the fashion capitals of the world, more young people are inspired to contribute their own designs. New Zealand fashion is now regularly showcased around the world as local designers are asked to participate in extravaganzas like the Mercedes Australian Fashion Weeks held in Sydney and Melbourne each year.
Look for designers like: Insidious Fix (Kylee Davis and Jason Crawford), Helen Cherry, Karen Walker, Kate Sylvester, Liz Mitchell, Morrison Hotel, Nom D (Margarita and Chris Robertson), State of Grace, Trelise Cooper, World ( Francis Hooper and Denise L' Estrange Corbet) and Zambesi (Neville and Elisabeth Findlay).

Kate Sylvester.

Neville and Elisabeth Findlay (Zambesi).

Liz Mitchell.
New Zealand fashion used to be largely a copy of European styles. Now it is a vibrant and dynamic industry with a range of influences, including those of Māori and the Pacific Islands.
Theatre
Visiting American, English and Australian companies brought theatrical productions to New Zealand as early as the 1860s, but professional theatre developed slowly: it was the 1950s before a full-time theatre company was formed. Nevertheless, there have always been amateur dramatic clubs, repertory theatres and operatic societies throughout the country.
Professional theatre took root with the establishment in 1964 of Downstage Theatre in Wellington. Downstage is New Zealand'slongest running professional theatre. An intimate theatre which seats approximately 250 people, it is situated centrally in Courtenay Place, Wellington capital city of New Zealand. Downstage has been a central support system for other theatres and the determination of its community to keep revitalising this nucleus of Wellington cultural activity.

Downstage Theatre, Wellington.

Fortune in Dunedin is located one block straight up from the Octagon in the centre of Dunedin. Fortune Theatre is an Historic Building converted from a Neo-Gothic stone church in 1978 when the Fortune Company was four years old. The Theatre has been providing professional theatre in Dunedin continuously for 30 years. The main auditorium seats 227, the Studio 104.

Fortune Theatre, Dunedin.

The Court Theatre in Christchurch is situated within the historic Arts Centre of Christchurch fronting Worcester Boulevard. The Court Theatre is a full scale subsidised regional theatre. It offers a mixed repertoire of wide variety in genre and scale and sustains a full time professional staff and an ensemble acting company. There are between 30 and 55 people working full time at the Theatre at any one time.

Court Theatre, Christchurch.

Fortune in Dunedin is located one block straight up from the Octagon in the centre of Dunedin. Fortune Theatre is an Historic Building converted from a Neo-Gothic stone church in 1978 when the Fortune Company was four years old. The Theatre has been providing professional theatre in Dunedin continuously for 30 years. The main auditorium seats 227, the Studio 104.

Alternative theatre reflecting the interests of children, young people and Māori has developed more recently, as have Theatre sports and stand-up comedy. As well as supporting a thriving local theatre scene, New Zealand performers regularly appear at festivals abroad, including the Edinburgh and Adelaide Festivals. Māori and Pacific Island writers and performers have had a big impact on the New Zealand theatre, giving it a unique and colourful Polynesian-influenced identity.

The Circa Theatre in Wellington staged it s first production in April 1976 and in the succeeding years gained a reputation as one of New Zealand's liveliest and most innovative theatres. Each Circa play is actually a Single Venture Partnership of Actors, Directors and Theatre Personnel, and each production is produced by individual dramatic partnerships. It has been hugely influential in keeping theatre alive in New Zealand. It has a highly motivated team that ensures a superior standard and actively demonstrates a wide range of talent and abilities. Circa Theatre in 1994 moved to a new location situated at Number 1 Taranaki Street, in central Wellington, on the waterfront, next to Te Papa: the National Museum of New Zealand.

Circa Theatre, Wellington.

Centrepoint in Palmerston North. It is the only professional theatre company in New Zealand that is operating outside of the four main centres. Centrepoint Theatre is a high profile professional business that brings to Palmerston North actors, designers and directors from all over the country to be enjoyed by more than 20,000 people a year.

Centrepoint Theatre, Palmerston North.
Taki Rua Productions
Established in 1983 as the 'New Depot' theatre the aim then was to foster and encourage the growth of New Zealand theatre and New Zealand's cultural identity. In 1991 the Depot changed its name to 'Taki Rua – Depot Theatre' to reflect the commitment to the Treaty of Waitangi and the partnership between Māori and Pakeha. 1997 saw Taki Rua move from a venue-based theatre company to a touring company. Since this time the theatre has toured the length and breadth of Aotearoa (New Zealand) as well as around the world with new, New Zealand plays with a Māori or Pacific focus. Taki Rua Productions has established itself as an industry leader, presenting work that represents Aotearoa/New Zealand's cultural heart. The name Taki Rua comes from a weaving pattern that literally means, "to go in twos". There are five strands of work within Taki Rua all reflecting their kaupapa to celebrate and promote Māori and Pacific culture through the creation and development of high profile and high quality theatre.
[/vc_column_text][/vc_column][/vc_row]